Sweet Cheese Qatayef Asafiri
Tags:
Dessert
Trending
Seasonal
Sweet Cheese Qatayef Asafiri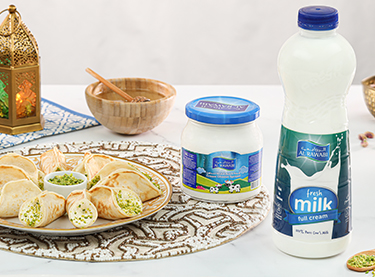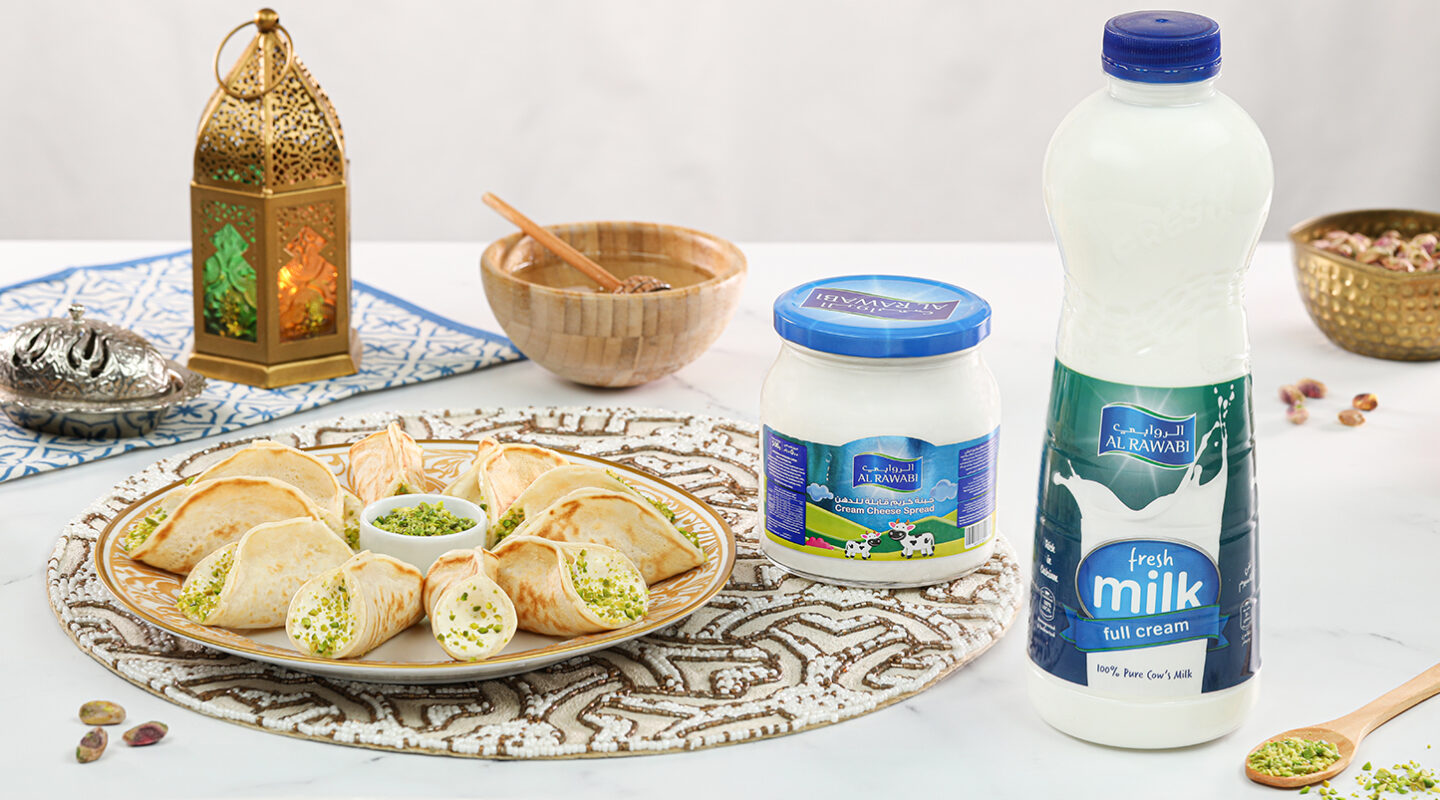 Ingredients

Pancake Batter

1¼ cup Al-Rawabi Full Cream Milk
½ cup warm water
½ tsp dried yeast
1 tbsp sugar
1 cup flour
½ tsp baking powder
1 tsp orange blossom water (optional)


Sweet Cheese Filling


2 cups Al-Rawabi Cream Cheese Spread
¾ tsp ground cardamom
½ tsp rose water
⅓ cup sugar
⅓ cup ground pistachios
Instructions
1.In a large mixing bowl combine warm water with yeast and sugar.
2.Set aside for 10 minutes. Then add Al-Rawabi Full Cream Milk.
3.In the meantime, combine the rest of the dry ingredients and whisk to combine.
4.Add the dry ingredients into the milk mixture gradually and whisk creating the pancake batter without lumps.
5.Set aside the batter for 15-20 minutes to give the yeast time to wake up.
6.Preheat a non-greased non-stick skillet over medium-high heat.
7.Pour ⅛ of a cup of batter into a preheated skillet and fry the pancake on one side until the top surface is no longer shiny, about 2-3 minutes.
8.Once the surface is dry and no longer shiny remove the pancake onto a clean kitchen towel and cover to prevent it from drying out. Continue with the rest of the batter. Adjust the heat as needed so the bottom part of the pancake doesn't burn.
9.Let the pancakes cool slightly, then fold into half circle and seal it pressing gently on the sides. Leave a small opening for the filling.
10.With a small spoon, fill the opening with sweet cheese filling.
Sweet Cheese Filling
1.Combine all the ingredients in the mixing bowl and stuff the Qatayef Asafiri.
2.Dip each pancake into some ground pistachios and serve with honey or simple syrup.