Tags:
Drinks
Trending
Quick & Healthy
Blood Orange Mocktail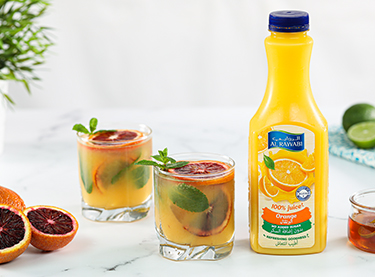 Naturally sweetened citrus mocktails made with Al Rawabi Rich Calcium Orange Juice are perfect for a healthy delicious drink. Make the most of citrus season with these Al Rawabi blood orange cocktails! 
Here is what goes into the blood orange mocktail recipe:
1 cup Ice Cubes
2 cups Al Rawabi Rich in Calcium Orange
2–4tsp Fresh Lime Juice
2–4 tsp. agave (if needed)
1 1/3 cup Sparkling Water
Mint Leaves
Blood orange for garnish
Begin sipping your mocktail
Fill a pitcher at least one quart (4 cups) with ice cubes. Add Al Rawabi Calcium-Rich Orange Juice, fresh lime juice, and agave to taste. To combine, mix it all up. Top off the blood orange juice with sparkling water. Garnish with fresh and bright mint leaves and slices of blood orange.