Yogurt Sauce (Laban)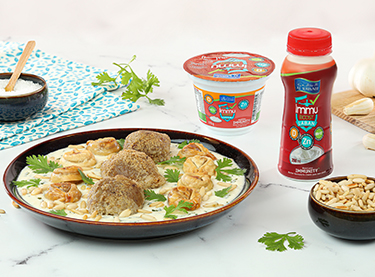 A classic recipe for the cooked yogurt sauce. Creamy, with a mild garlic flavor, and easy to make, it's frequently served as a snack or appetizer with bread or fresh vegetable sticks for dipping.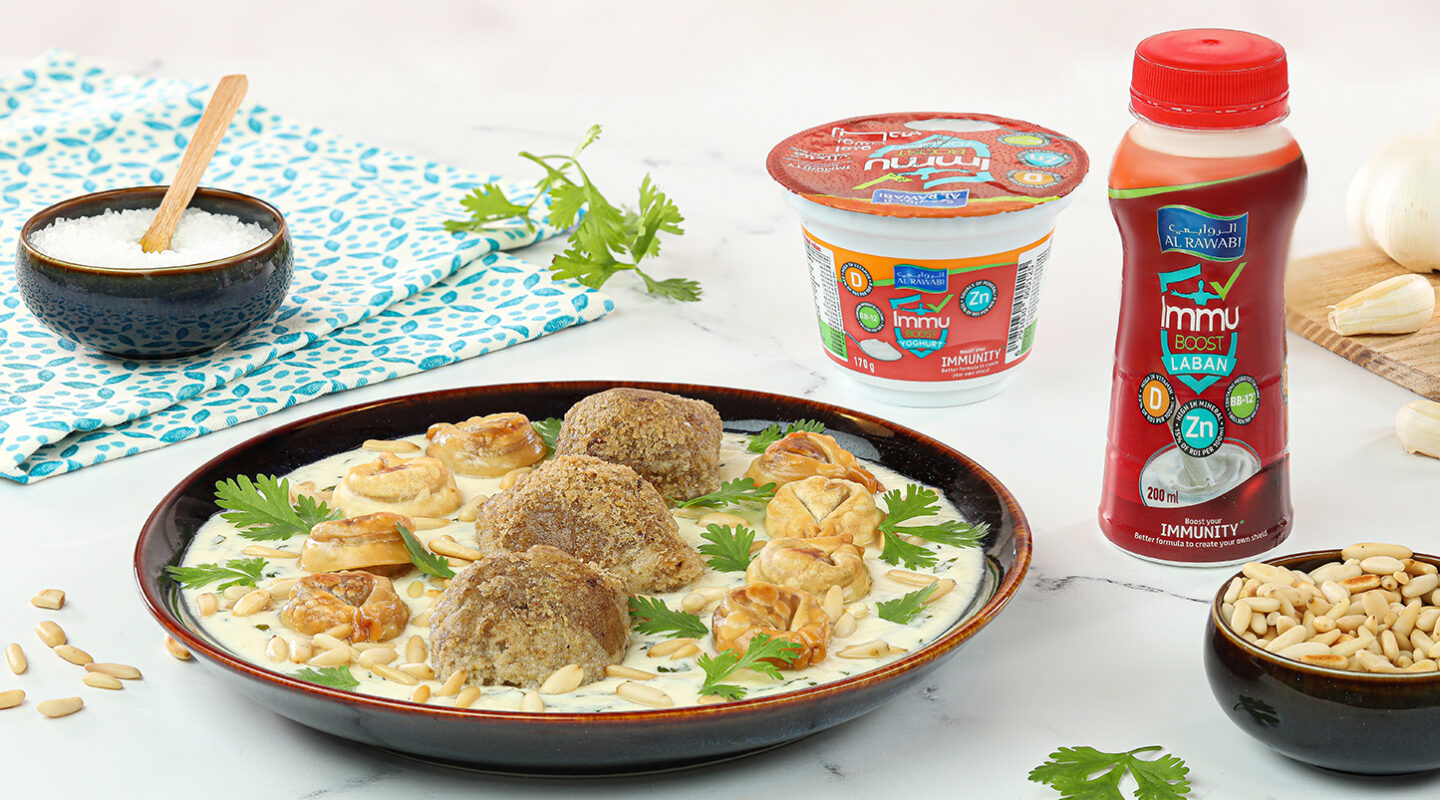 All you need is:
200 ml Al Rawabi Immu Boost Laban
170g Al Rawabi Immu Boost Yogurt
1 bunch of coriander, chopped.
6-8 garlic cloves, crushed
1 egg
1-2 tbsp cornstarch
1 tsp salt
toasted pine nuts to garnish
extra coriander to garnish
Frozen kebbe/shish barak
Begin your fresh and delicious dish immediately:
To make frozen kebbe or shish barak
 Preheat the oven to 200 degrees Celsius. Place frozen kebbe or shish barak on a baking sheet that has been lightly oiled. Toss in a little more oil and toss to combine. Bake for 20-30 minutes, turning halfway through, until golden brown
To make the yogurt sauce
In a small pan, heat the chopped coriander and crushed garlic with a pinch of salt over medium-high heat until the garlic has just turned golden. Set aside. Combine the amount of cornstarch and just enough cold water to make a paste. Blend the Immu Boost Yogurt, egg, cornstarch paste, and salt together in a blender until smooth.
Pour the Immu Yogurt mixture into a heavy saucepan over medium heat and begin whisking right away. If you stop whisking, the sauce will separate. After about 10 minutes, the sauce will begin to boil; remove it from the heat as soon as it does.
Stir in the fried garlic and coriander mixture and season to taste. If desired, and especially if the sauce is too thick, add the Al Rawabi Immu Boost Laban drink.
If you're using this yogurt sauce with cooked kebbe and shish barak, add it right before serving to keep the crunch. Garnish with toasted pine nuts and fresh coriander. Enjoy with a side of vermicelli rice!