High Immunity Pasta Sauce
Tags:
Drinks
Trending
Quick & Healthy
High Immunity Pasta Sauce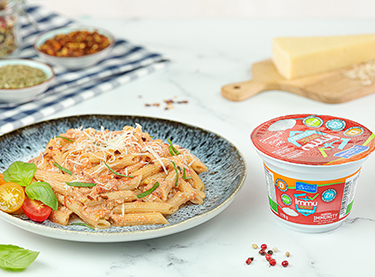 Al Rawabi Immu Boost Yogurt is perfect for adding a high Immunity boost to pasta sauce while also adding a rich, creamy texture to your recipe. This recipe features Al Rawabi Immu Boost Yogurt along with a variety of healthy herbs, spices, and seasonings.

All you need is:
1 cup Al Rawabi Immu Boost Yogurt
2 cup Pasta
1 tbsp Olive oil
3–4 Garlic cloves, minced
1 can crushed Tomatoes
¼ cup Parmesan
2 tbsp Fresh Basil
1/4 tsp Dried Oregano
1/4 tsp Red pepper flakes
Salt, to taste
Pepper, to taste
Start your healthy delicious recipe now:
Cook pasta according to package directions, drain and set aside. In a saucepan, heat the oil over medium heat. Add garlic and cook it for 2–3 minutes. Bring to a boil after adding the tomatoes. Cover the pan, reduce the heat, and simmer for 15–20 minutes. Mix in the Immu Boost Yogurt, Parmesan, basil, oregano, and red pepper flakes. Season with salt and pepper to taste. Toss the cooked pasta and serve.