Fruity Mocktail No Added Sugar
Tags:
Drinks
Trending
Quick & Healthy
Fruity Mocktail No Added Sugar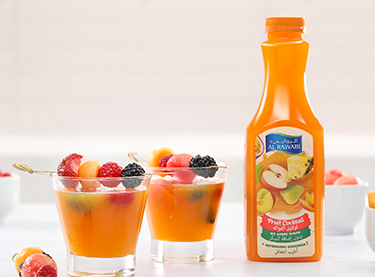 Ingredients
800 ML Al Rawabi Fruity Cocktail
3 Cups Sparkling Water
2 Cups Mixed Fruit (blueberries, strawberries, blackberries, melon balls)
Instructions
1.In a pitcher, combine the Fruity Cocktail juice, sparkling water, and ½ of the mixed fruit. Place in the fridge and chill until ready to serve.
2.Use the remaining fruit to make little skewers for garnish.
3.When ready to serve, pour the Mocktail over ice between 4 glasses, making sure to get fruit in each one, and top with a fruit skewer.