Ultimate Crispy Fries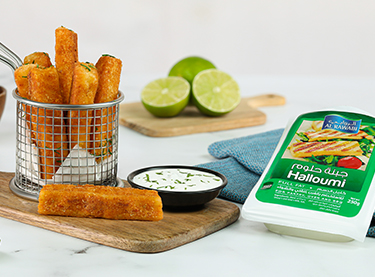 Crispy halloumi fries are the ultimate snack or appetizer. These fries are incredibly easy to make; all you need are four ingredients and 15 minutes! Serve it with a Sour Cream Dip alongside burgers, salads, or grilled fish.
All you need is:
250g Al Rawabi Halloumi Cheese
37 g flour
15 g fajita seasoning mix
250 ml vegetable oil, for frying
Start Your Munch Now
1.Mix the flour and fajita seasoning mix in a bowl
2.Cut the Al Rawabi Halloumi into chip-like rectangles and toss in the seasoned flour
3.Heat 250ml of vegetable oil in a wide pan so the oil is a couple of 3-4 cm deep. Heat until a piece of bread goes brown, approx. 30 seconds.
4.Drop the fries into the oil and fry for 2-3 minutes moving occasionally until golden brown
5.Serve with the dip and a wedge of lime.