Royal Rose Falooda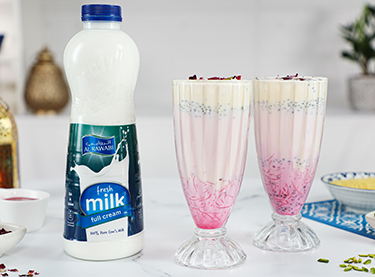 Ingredients
1 Tbsp Sweet basil seeds
½ Cup Water
½ Pack Thin noodles
4 – 6 Tbsp Rose syrup
1 Cup Al Rawabi Full Cream Fresh Milk
2 Scoops vanilla ice cream
1 Tbsp nuts (optional)
Dried rose petals
Instructions
1.Soak sweet basil seeds in water.
2.Cook the vermicelli according to the instructions on the package, then drain and set aside.
3.Assemble the drink in 2 tall glasses by layering 2 tablespoons of soaked sweet basil seeds, 2 tablespoons of cooked noodles, 2 tablespoons of rose syrup, and ¾ cup of Al Rawabi full cream fresh milk in each glass.
4.Put a scoop of vanilla ice cream on top. Sprinkle some chopped nuts and dried rose petals. Serve immediately.