Labneh dip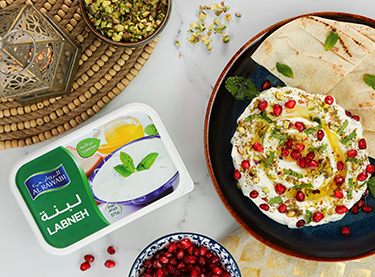 Ingredients
375 g Al-Rawabi Labneh
¼ tsp lemon juice
Dash of salt
2 tbsp olive oil
1 tbsp za'atar
¼ cup pomegranate arils
¼ cup chopped pistachios
4 fresh mint leaves, chopped
Flatbread
Instructions
1.Stir together Al-Rawabi Labneh in a small bowl with lemon juice, and salt.
2.Line a fine mesh sieve with cheesecloth and fill with the Labneh mixture. Fold the cheesecloth back over the Labneh. Set the sieve with the cheesecloth and yogurt over a bowl. Refrigerate 12-24 hours, until the labneh has reached your desired thickness.
3.Transfer the labneh to a shallow serving dish and drizzle with olive oil. Sprinkle with za'atar, pomegranate, pistachios, and mint.
4.Warm the flatbread and cut into triangles. Serve immediately.