Easy Creamy Sour Cream Potato Salad
Easy Creamy Sour Cream Potato Salad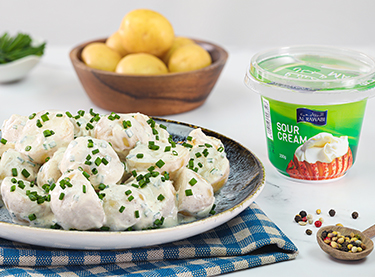 Potato salad with Al Rawabi sour cream is the easiest and most delicious recipe for a quick snack. This simple recipe is your go-to for days when you need a side dish that doesn't require much time or effort and can be made with ingredients you already have in your fridge.
You'll need:
200g Al Rawabi Sour Cream
1 kg Potatoes
2 tbsp Water
½ tsp Garlic Powder
1 tsp Salt
1 tsp Black Pepper
½ cup Fresh Chives, chopped
Start your easy recipe now
1.Halve the potatoes and cook in a large pot of salted, boiling water until cooked.
2.Drain the potatoes and allow them to cool slightly.
3.To make the dressing, mix the Al Rawabi sour cream and seasoning and thin out with a little milk or water if necessary.
4.Pour the dressing over the cooked potatoes and mix.
5.Taste and adjust the seasoning, if necessary, then allow to cool completely before serving.